Blogpost
ECORISK2050 meeting in Rehovot, Israel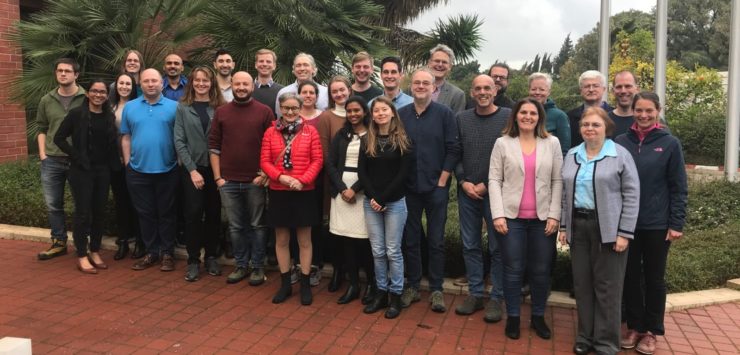 From 05-09 January 2020, the second meeting of the ECORISK2050 project was held at the Rehovot campus from the Hebrew University of Jerusalem, Israel.
We started our time in Israel with an interesting trip to Jerusalem on Sunday, where we had a guided tour around the fascinating old city. For many of us it was the first time in Israel, so this tour was a great way to learn more about the history of the city and country.
On Monday the meeting commenced with the opening remarks from Prof. Benny Chefetz, after which the workshop on 'Policy and Regulation of Chemicals' started with lectures from Dr. Tamar Berman on Regulatory Framework for Pesticides in Israel, Dr. Ronit Justo-Hanani on Nanotechnology regulation in EU and the US, Prof. Josef Eitzinger on climate change impacts on agriculture and implications for pest management and Dr. Amnon Zirlin on Food legislation in Israel.
On Tuesday we had lectures from Dr. Ronit Justo-Hanani on European risk regulation on Bio invasion, Dr. Laila Sheeney Haj-Ichia on Regulation of chemicals in Agriculture, Prof. Hagai Levine on Regulation of Chemicals – Public Health Perspective and ended with lecture from Dr. Vitore Shala-Maryhofer on Austrian pest and disease warning system.
On Wednesday we started with a presentation from Mr. Andre Gergs on Introduction to the European Water Framework Directive. Later the ECORISK2050 project midterm meeting took place with the EU project officer: Luisa Marconi, the ESRs,  the project supervisory team and the project partners.
Thursday, we concluded the official meeting with discussions on ESR projects followed by lectures from Prof. Merete Grung on Derivation of environmental quality standards for PFOS according to the Water Framework Directive and Dr. Anna Sobek on Assessing persistence of chemicals.
After the offical meeting, the ESRs stayed in Rehovot in order to prepare for the upcoming workshop in Wageningen and to see more of the country. We went to Tel Aviv and the ancient port city Jaffa, and of course we couldn't miss visiting the dead sea -the Earth's lowest point on land- as well! Unfortunately we weren't allowed to float on the water due to bad weather conditions, but nevertheless it was an interesting experience to visit world's deepest hypersaline lake and one of the saltiest water bodies.
The meeting really came to an end after a few more days of hard work, falafel, travelling, hummus and more falafel. We're very fortunate to be part of this enriching project and are looking forward to the next workshop in Wageningen (NL).