Joanke van Dijk – ESR 13 – Utrecht University (Copernicus Institute of Sustainable Development)
Forecasting future changes in chemical risks in urban and agricultural systems and assessing mitigation possibilities (WP6)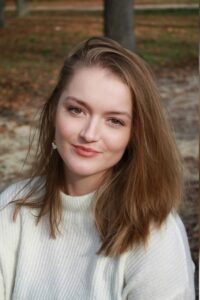 Joanke is an Environmental Scientist holding an MSc degree in Environmental Sciences from Wageningen University, the Netherlands.  During her studies, she focused on both human and environmental toxicology, i.a. by completing internships at the Institute for Risk Assessment Sciences (IRAS, Utrecht, NL) business unit of Toxicology, Novel Foods & Agro Chains at RIKILT (Wageningen, NL) and at the Department of Bioanalytical Ecotoxicology at the UFZ (Leipzig, DE) to gain a better understanding on the effects of chemicals on both human and environmental health. After finishing her MSc degree, she also gained experience in the environmental risk assessment of pharmaceuticals at the RIVM (Bilthoven, NL) and of pesticides at the European Food Safety Authority (Parma,  IT).
Joanke started in March 2019 with her PhD project at the Copernicus Institute for Sustainable Development (Utrecht University). Her PhD project aims to get an insight into the future risks of chemicals and the implementation of possible mitigation options (both technical and non-technical) to improve surface- and groundwater quality.
E-Mail | Profile | ResearchGate
ECORISK2050 publications
van Dijk, J., Gustavsson, M., Dekker, S.C., van Wezel, A.P. (2020). Towards 'one substance – one assessment': An analysis of EU chemical registration and aquatic risk assessment frameworks. Journal of Environmental Management, 111692.